* NOTE - Due to both Internet and Cell Phone Services not always working at 100% / If I do not get back to you within 24 hours / Please reach out to me again / Thanks, Rock.
A d d e d   S e r v i c e s
Drains  /  Cement Slabs  /  Patios
Anything it takes to get the water out of your backyard
Coachella Valley Gutters 101
Below are two small shots of Seamless Aluminum Rain Gutters. Every company you talk to has all the same materials and colors. There is only a few things that matter, first ( to me ) is the quality of workmanship and next is the price, and I'm not afraid to say " I'm not the cheapest, but I do believe I'm the best", the last part is, how long is the Workmanship Guarantee lasts / If I personally install your Gutters your Guarantee will last as long as I have a Contractors License in my pocket ( 1000215 ) / if one of the other Gutter company's that I work with installs your Gutters they will give you a 5 year Guarantee. I ( Rock ) have been in this trade since 1977 , and am very picky on each and every job that is installed. I'm the one who shows up on each bid and goes over your job; and most of the time, I'm the last person you see after the install. If needed, I will give you copies of ALL insurances required, I can also do Commercial Gutter work in ANY shape or size that your job site needs.I do charge $20 (cash) for bids in the Coachella Valley area and $50 for bids in the Yucca Valley to 29 Palms area / if the job is accepted I take the 20 or the 50 off the 10% down payment. Call or email me if you have any questions / Thanks / Rock.
No Place to Put Water
NO PROBLEM
As you can see from this drawing, we dig a hole ( the hole size depends on how much water is going into it ) then we fill the hole with ¾ inch rock / next we install a 3 inch drain line and a downspout connector into the rock / finish filling the hole with ¾ inch rock and finish it off with the rock you had to start with / now you have a drain that will work for years.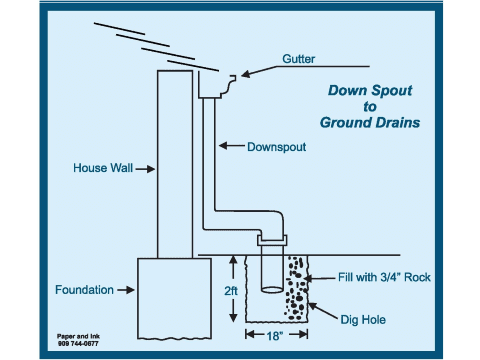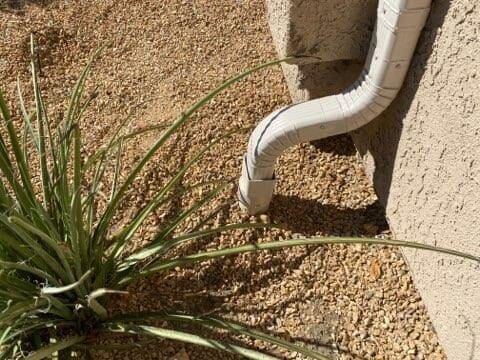 As long as you can give me some type of drawing of what you want built, I can fabricate it.
This metal pan with a water pump was built for a stone fabricator that builds waterfalls inside homes; he uses the pan for testing smaller pieces before making the larger one that gets installed in the house. It also comes in handy when showing the water flow to the customer when deciding just how much water the customer wants flowing over the stone.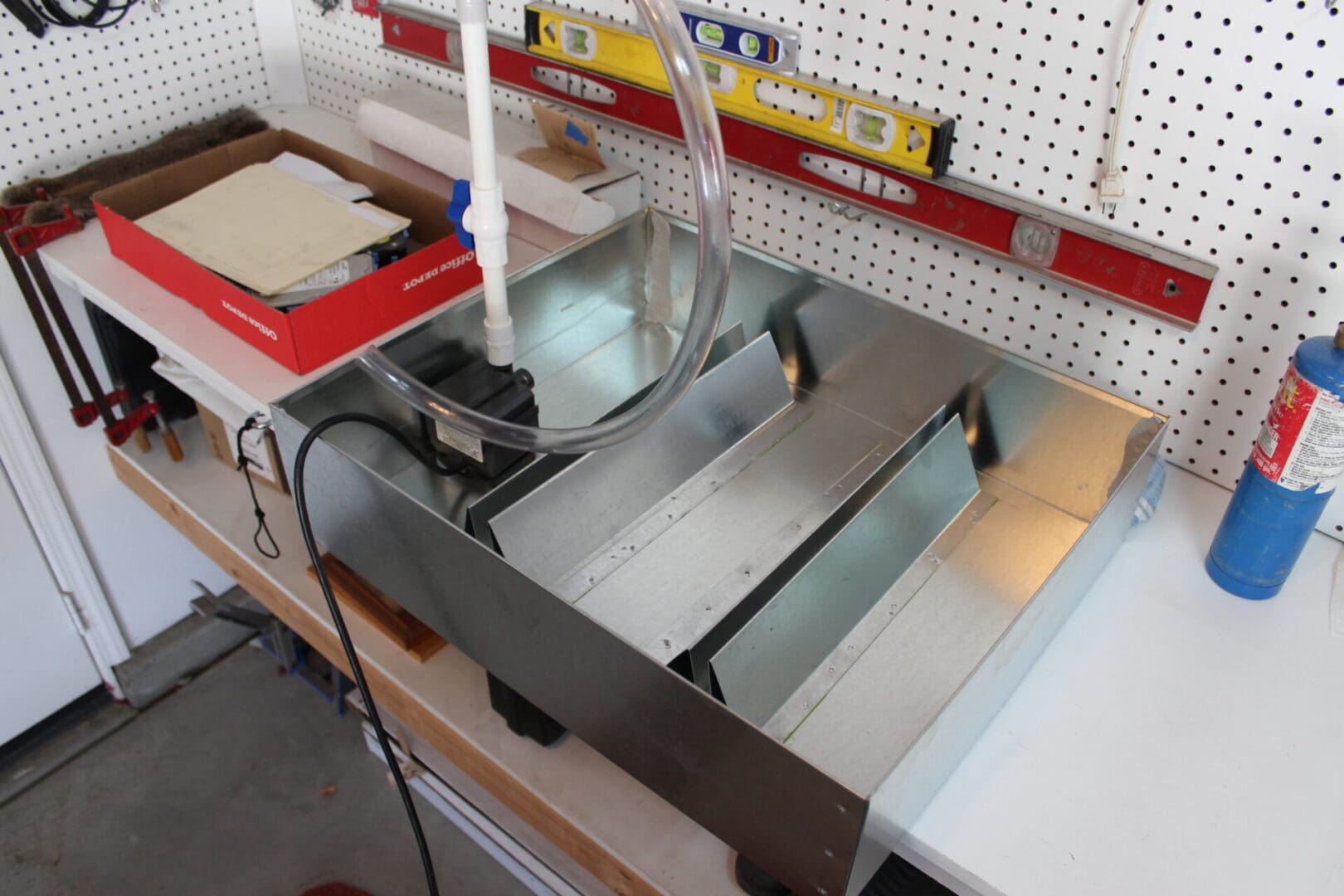 Life in The Gutter
HELLO, MY NAME IS ROCK, AND HERE IS MY STORY
I started installing Seamless Aluminum Rain Gutters back in 1977, from there I moved to the mountains where I learned how to install my gutters to withstand hundreds of pounds of snow per foot, little did I know that mother nature would do my advertising for me, when other company's gutters were falling off from the snow , mine were hanging in there, Rain Gutters By Rock became the most wanted gutter company on the mountain, I even had at one time a 9 month waiting list to get on my calendar. Back in 2012, I moved down to the Coachella Valley area where I now service ALL the cities down here plus Joshua Tree and 29 Palms area. I have even installed gutters down here from past customers that still own there mountain home and got reconnected with them; it was nice to hear there gutter system was still working after 15+ years of winters. I have taken all that knowledge of how to install a strong Gutter System and have passed the knowledge on to the other Gutter Company's that I work with to this day, I knew that father time (someday) will bring an end to letting me climb a ladder up and down each and everyday. It took me awhile to find the right company to not only teach my skills to but also find one that me and the owner see eye to eye on most subjects, now that father time has tapped me on the shoulder, I'm more in the roll of bidding jobs and supervising (the hard to do jobs) to make sure it's still at the highest quality I can give you the customer, I did not have to raise the price to accomplish this, the price has stayed the same, I take the 10% down / and the company that I work with takes the 90% balance when the job is finished. I can provide proof of both workers comp and general liability insurance. Some of the REALLY small jobs, I still install to this day. I not only install Seamless Aluminum Rain Gutters, I can also fabricate ANYTHING in unpainted sheet metal or solid copper, so if you need it in metal / I can get it done.
I LOOK FORWARD TO YOUR CALL
Cost Calculator
This is what you can do to get a FREE Gutter bid
First of all you the customer pretty much know where you want the new Gutters / measure the first piece, let's say it's 25 feet long and the next piece around the corner is 20 feet long, you now have a total of 45 feet of gutter / now you will need to give the best guess of how many downspouts you need / the picture shows (1) downspout / count each one story downspout as 13 feet / (1) 10 foot pipe and (3) elbows / with the gutter and downspout you just measured you now have a total of 58 feet / the closer you can come up with the total footage you need / the closer I can come up with the Total Price FREE over the phone / the more gutters you have the more footage you will have / if you can email me ( not text ) a picture or 2 with the footage / it will help me to give you the best price I can. ( measure each (2) story downspout as 23 feet ).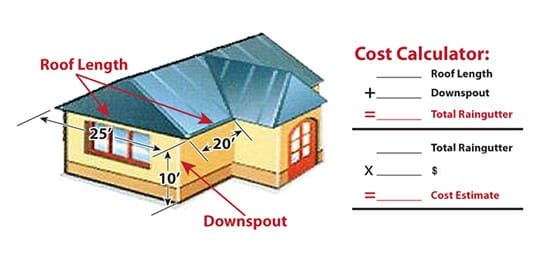 Gutter Enterprise is the "Industries Most Looked at Journal" This Trade Journal plans to feature me and my company in a bi-monthly question and answer spot or a information page. I am one of the most knowable installers in the State or even the country. I have installed Gutters from Lake Arrowhead to Big Bear which are still working to this day in the Mountains. Rain Gutters Must hold hundreds of pounds of snow and ALL my work is still hanging tuff. I now install down in both Coachella Valley to 29 Palms, I even have a job over on Catalina Island. I also work with 2 other Gutter companies, one that installs the larger jobs and the other installs the Commercial jobs. No matter what your Gutter needs are
"If I Can't Do It - It Can't Be Done"
Contact us to order your gutters today!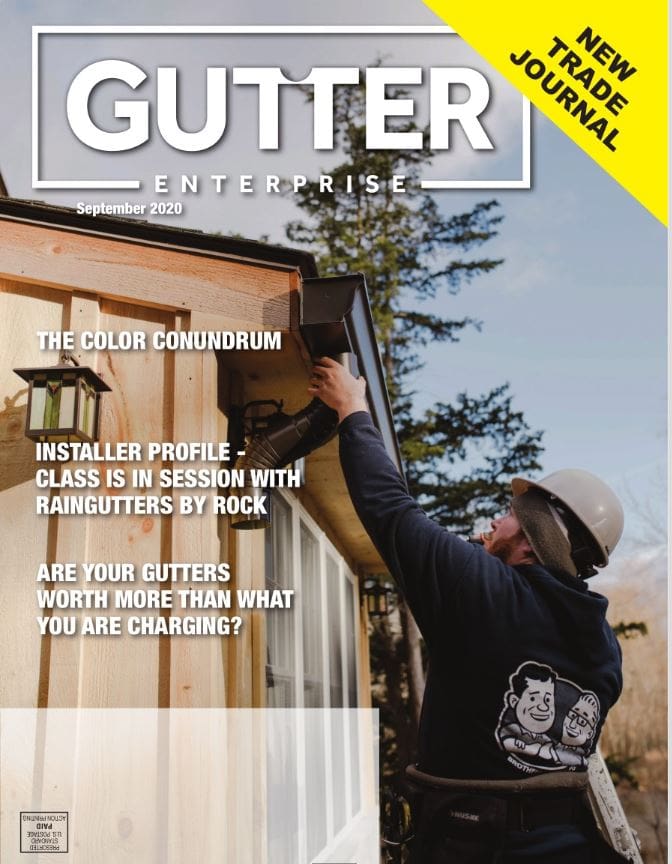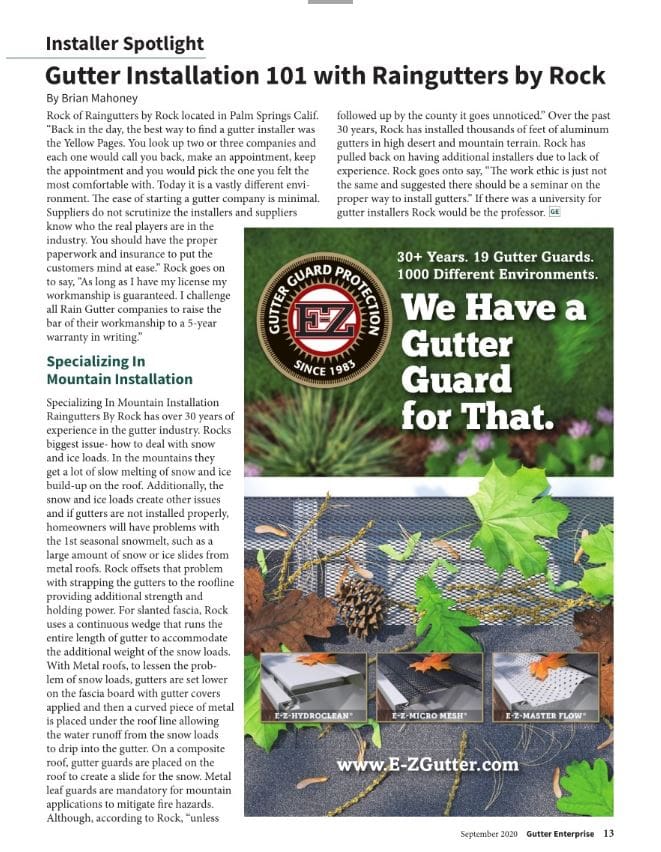 I was able to get a live video during a small rainfall / this is what water looks like going down a Rain Chain when it rains
Night Shot of Patio in Rain This video was taken at night when the rain started / If you want both a Patio and Gutters on your home, here is a rainy night video that shows how it's installed right / not a drop of water coming in-between anything / install your Gutters first
Specializing in desert installation, I also offer the following services:
Ralaine R
Palm Desert
I found Rock on Yelp, he was prompt, kind and immediately set to work checking out a difficult issue which may be more roof related than gutter. Two  other companies attempted to stop water coming into the carpet through a sliding door through previous gutter work past 2 years. He spent an hour investigating the roof, the sliding door and the existing gutter. Even cleaned out the pine needles as he investigated. He also consulted his roofer while with me and took multiple photos. He got down on the carpet as I poured water into the tracks. No leaks. He used a hose on roof to see if that gave any clues. No luck. With this tricky case he has advised to wait until it rains, as the water has to build up for awhile before it comes onto the carpet, Mark water pattern border with a crayon (water erases ink) on concrete with carpet rolled back. He will be the one to finally fix this mystery. His honesty and thoroughness of assessment along with depth of experience has my vote and he did not want to charge me for all the above investigation-but I insisted. The guy knows his stuff.
Bob M
Palm Springs

Trust me when I say that, if you want your gutters installed professionally, at a fair price, and with the highest standard of quality, then you want to have Rock install them. Rock is truly "The 'Professor of all things gutters and leaders" and he will  give you the piece of mind that only a top notch install can bring. No leaky seams, no uneven placement, no shaking in the winds. Rock's experience is deep and his commitment to quality is the highest.. You get all of that professionalism at a very reasonable price. Now you know.
David G
Stevenson Ranch CA

Very professional and easy to work with.
We have to go through a process, so the project has not been done but I hope to finish it and continue to experience the same professionalism.
Lili Tanner
Hi Rock
Thank you for your great work - here's my review:
Rock installed a very long set of gutters with a complicated corner on my patio in Twentynine Palms. I'm super happy with the work. Not only is it flawless in its execution, Rock was also a pleasure to work with. Very transparent, very reliable and super professional - and all in a timely fashion. Thank you!
Lili Tanner